Palm oil production process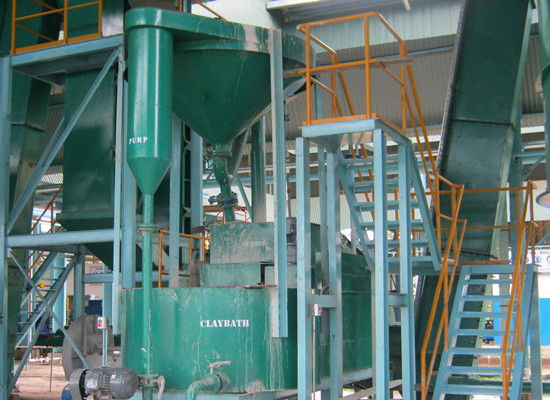 Factory direct sale contact number
In the palm oil production process, before the extracting of oil from palm fruit, an oil pretreatment process is typically undertaken to improve the efficiency of production and to ultimately save on costs. The entire palm oil production process generally includes: reception,sterilizing ,threshing,digesting,pressing,clarification,Kernel recovery and so on.

Process flow chart of palm oil production process: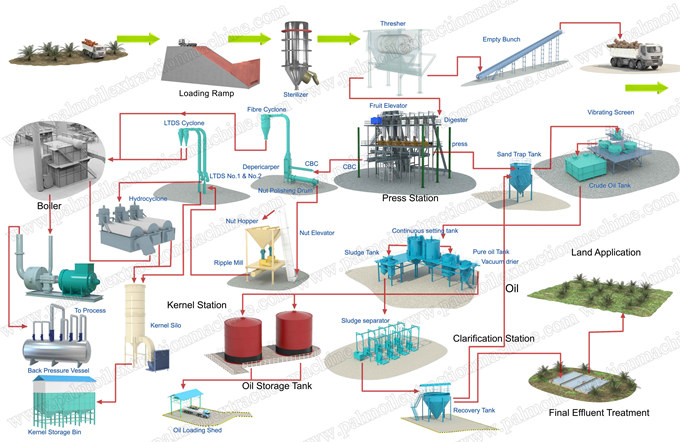 Process flow chart of palm oil production machine
Palm oil production process:
1.Raw materials storage section: Fresh palm fruit bunch must be first measurement recorded by the pound into the plant, then unloaded to loaded fruit slopes and stored.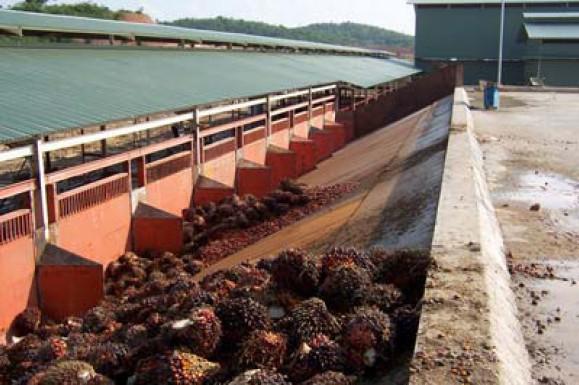 Raw materials storage section
2.Sterilizing section: fresh palm fruit bunch are airtight sterilized in sterilizer of palm oil production process. The purpose to prevent enzymes broken down, avoiding FFA content in oil further increase; easy threshing machinery; pretreatment peel, prepared for the follow-up

palm oil production process

; pre-conditioning stone, reducing the damage kernel.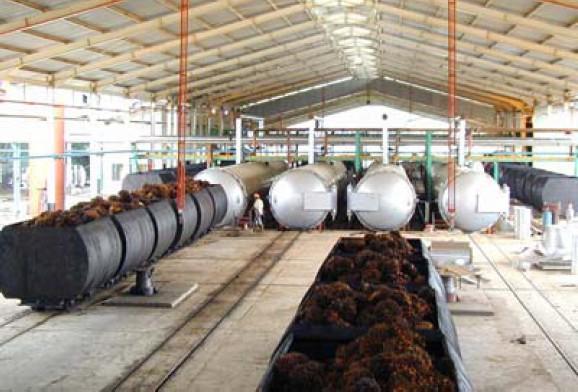 Palm oil sterilizing section
3.Threshing section: The purpose of threshing machine is the oil palm fruit be separated from the fruit bunch through strong vibration, Threshing equipment is revolving drum thresher. The oil palm fruit separated be ejected then into the palm oil press section. Empty fruit bunch be ejected to the yard from the other side of the revolving drum, or shipped out from the plant as palm orchards slipcover to recycling use, or burning in the locale as fertilizer for agricultural land.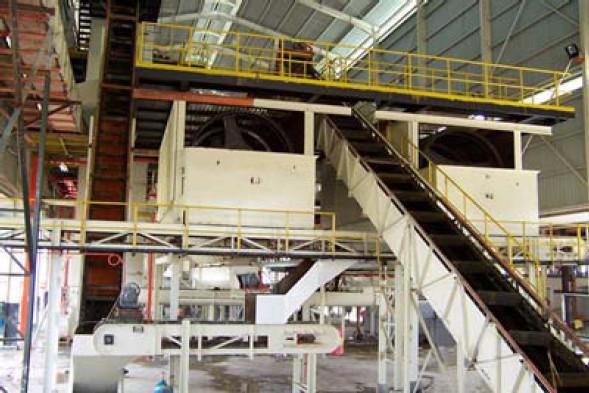 Palm oil threshing section
4.Pressing section: Oil palm fruit first carry out cooking before pressed, fruit sterilized must be re-heating for the soft pulp, and damage pulp cell structure. Then enter into continuous screw press for pressing. Oil palm fruit pressed is divided into two parts: oil, water, solid impurities mixture and the press cake (fiber and nuclear). Oil, water, solid impurities mixture by the crude oil gutter inflow to oil purification section; press cake by breaking screw conveyor into the fiber- recovery section.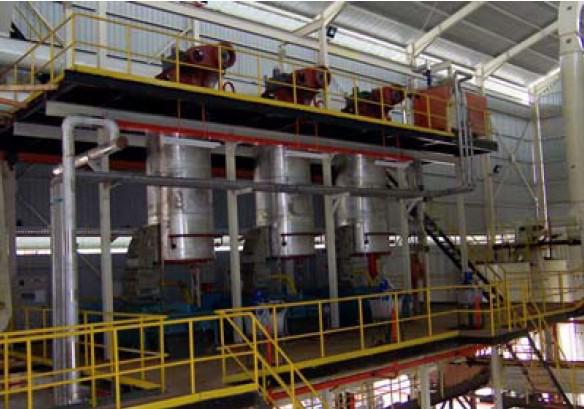 Palm oil pressing section
5.Clarification section:
Clarification section is a main process in palm oil production process.

Machine-pressed crude oil first diluted with water washing, through settlement and filtration, the fiber material removed from the oil, and then carry out continuous settlement, the whole divided into two parts: oil and sediment. Oil by centrifugal separation and through vacuum drying pumped into the storage tank for storing; oil sediment by filtration and dirt oil separation, oil process second settlement, dirt oil mixture process clarification separation, Skim oil then carry out a second settlement, sewage pumps to sewage treatment pond for dealing with.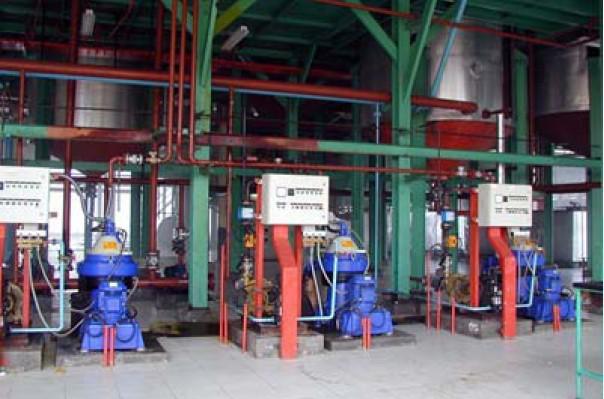 Palm oil clarification section
6.Fiber separation section: Press cake broken by breaking screw conveyor and then transported into the fiber separation air net and fiber polishing roller for fiber separating. The fiber material separated are sent to the boiler room as fuel; the stone separated are transported to stone warehouse by pneumatic conveying system for temporary storage.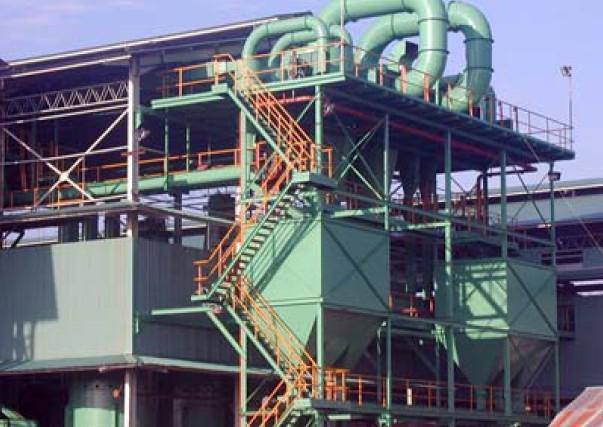 Palm oil fiber separation section
7.Kernel recovery section: The
kernel recovery section is the last step in palm oil production process,

the stone needs intenerate tempering before being broken, the intenerating stone be divided into two or more petal by corrugated crusher, kernel was released. The broken mixture enters into broken mixture separation system; separation system adopts two stage separation and water separation. After separation, shell is sent to the warehouse for temporary storage, as boiler room fuel when necessary; the moisture content of separation kernel falls to below 7% through the hot air to dry. Dried kernel is sent to kernel storage warehouse for storing.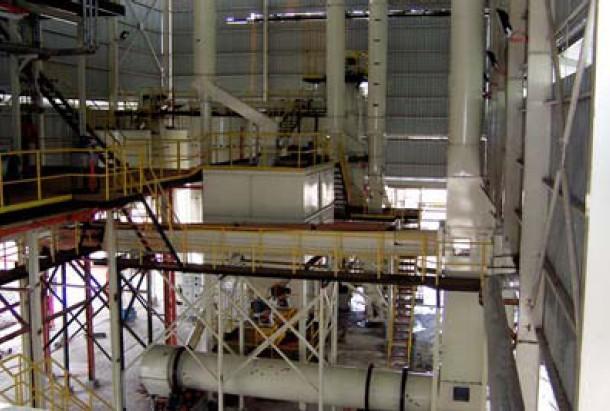 Palm kernel oil recovery section
After getting the crude oil, the palm oil refinery plant and palm oil fractionaction plant is used to get the higher quality oil. The palm oil refinery is used to move the impurities in the crude palm oil. The function of the palm oil fractionaction plant is to sepaprate the olein and stearin.
Henan Doing Company is now the largest palm oil processing plant manufacturer and supplier in China. We can not only supply high quality single palm oil expeller, but also offer turnkey projects of palm oil production machine, including palm oil extraction machine, palm oil refinery plant and palm oil fractionation plant. Our palm oil machine business scope as follows:

1-10tph small scale palm fruit processing plant;
15-45tph medium scale palm fruit processing plant;
60-120tph large scale palm fruit processing plant;
1-1000tpd palm kernel oil processing plant;
1-600tph palm oil and palm kernel oil refinery & fractionation plant;

If you want a FREE quotation, feel free to leave your message below!
Leave A Message About Palm oil production process
Leave a message

Tel/Whatsapp:8613526627860