3tph palm oil processing machinery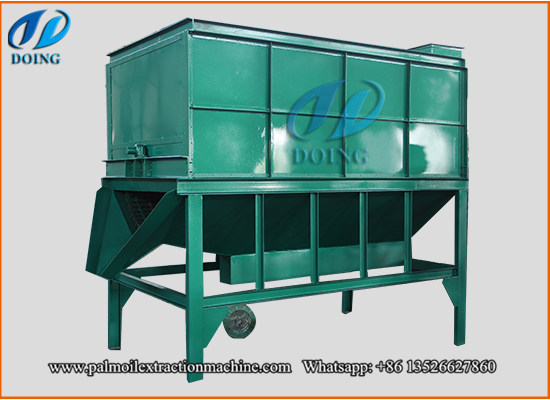 Factory direct sale contact number
3tph palm oil processing machinery includes the processes of receiving section of raw material, leaven -removal, fruit separating, digesting pressing, palm kernel recycling, etc. 3tph palm oil processing machinery adopts international advanced and mature technology. Latested 3tph palm oil processing machinery assuring high efficiency of product quality. Continuous 3tph palm oil processing machinery production reduces labor intensity and production cost.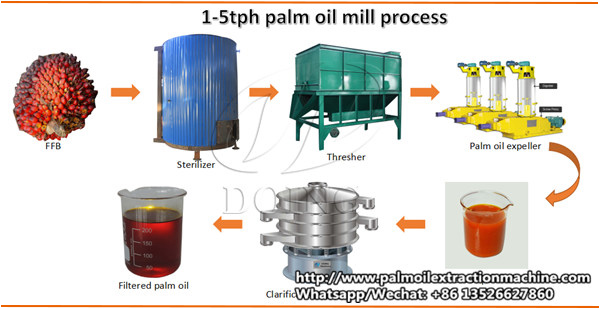 The above picture is 3tph palm oil processing machinery
Technical parameters of 3tph palm oil processing machinery:
| | | |
| --- | --- | --- |
| NO. | Main section | Main machine |
| 1 | Fresh palm fruit bunch reception section | Loading ramp |
| 2 | Sterilization section | Sterilization machine |
| 3 | Threshing section | Threshing Machine |
| 4 | Pressing section | Screw presser |
| 5 | Oil clarification section | Clarification Tank |
| 6 | Fiber separation section | Palm nut and fiber separating machine |
| 7 | Palm kernel recovery section | Palm kernel & shell cracking and separating machine |
| 8 | Engine room | Diesel generator |
| 9 | Boiler room | Boiler |
Equipments which directly related to the 3tph palm oil processing machinery are divided into five systems as follows: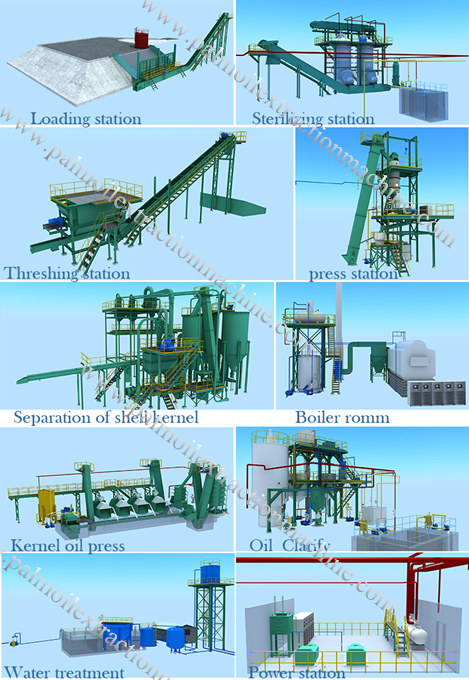 3D animation of palm oil processing machinery
Palm fruit reception station:
Used for loading palm fruit brunch from plantation,transport to sterilizer. Reception station adopt steel structure and concrete structure. Save equipment cost and construction cost.Have hydraulic control system, hydraulic door open/off automatic achieve continuous operation. Reduce operator, operate more easily and improve work efficiency.

Plam fruit sterilizer station:
The sterilizing tank uses direct steam to process, which can reduce activity of the enzyme,prevent the rancidity, ensure the good quality of the crude oil. At the same time, it is good for the threshing process.

Palm fruit threshing station:
Palm fruit thresher in 3tph palm oil processing machinery is used for separate empty fruit bunch and palm fruit.According the palm oil processing machinery capacity we can design the thresher capacity, usually we have a spare one, in case one of them not work. Empty fruit bunch from palm fruit thresher will be conveyed to outside, can be used as stertilizer in palm fruit plantation. Sterilized palm fruit will be convey to next station.

Palm fruit digesting & pressing station: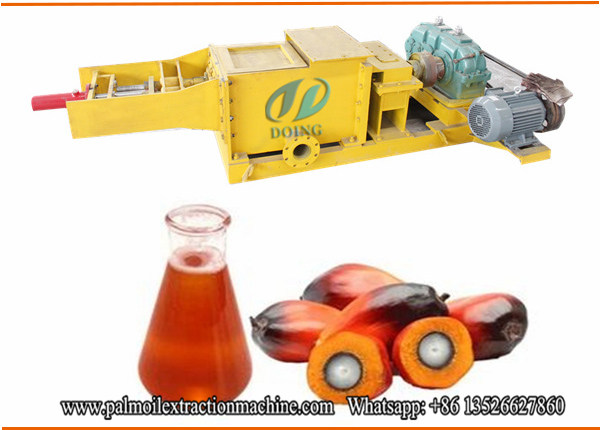 Large capacity palm oil press machine
Pressing station in 3tph palm oil processing machinery is include digestor and oil presser.
Sterilized palm fruit from thresher conveyed to digestor.There are blades in digestor, blades will be rolling by motor which is on the top of digestor. Palm fruit peel can be crushed by blades, besides we will fill the steam in digestor for heating. Palm fruit pulp cell can be destroyed under the high temperature condition, after that we can get higher oil yield.

Crude palm oil clarification station:
A mixture of oil, water, and solids from the bunch fibres is delivered from the palm oil digesting & pressing station to a clarification tank of palm oil mill equipment machinery. In the conventional process, separation of the oil from the rest of the liquor is achieved by settling tanks based on gravity. The mixture containing the crude oil is diluted with hot water to reduce its viscosity. A vibrating screen helps remove some of the solids. The oil mixture is heated to 85-90°C and allowed to separate in the clarification tank. A settling time of 1-3 h is acceptable. Oil from the top is skimmed off and purified in the centrifuge prior to drying in vacuum dryer. The final crude palm oil is then cooled and stored. The lower layer from the clarification tank is sent to the centrifugal separator where the remaining oil is recovered. The oil is dried in vacuum dryers, cooled and sent to storage tanks.

Production quality index of crude palm oil :
| | |
| --- | --- |
| 1,transparency : | clear and transparent. |
| 2,smell and taste: | no strange smell; |
| 3,color (lovibond colorimeter 133.4 slots) | ≤ R1Y10; |
| 4,moisture and volatile matter: | ≤ 0.10%; |
| 5,impurities content : | ≤ 0.10%; |
| 6,acid value (mgKOH/g) : | ≤ 0.12; |
| 7,peroxide value (mmol/kg): | ≤ 3. |
We have been specialized in palm oil extraction plant for decades. Our professioanl engineers can help you design and install palm oil processing machinery according to your capacity and requirements. If you are interested in 3tph palm oil processing machinery, please feel free to contact us.
Leave A Message About 3tph palm oil processing machinery
Leave a message

Tel/Whatsapp:8613526627860