40tpd solvent extraction plant for palm kernel oil/solvent extraction process
Solvent extraction process is one of methods to extract edible palm kernel oil from palm kernel cake.Solvent extraction plant widely used in oil seeds like soybean, sunflower, cottonseed, other oil seeds and oil cakes like mustard cake, groundnut cake and rice bran.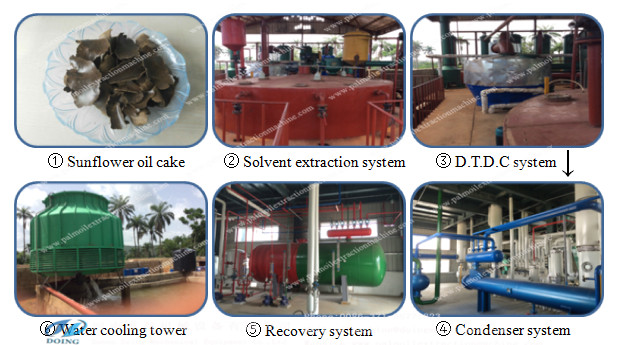 Solvent extraction plant for palm kernel oil and other oil seeds ,oil cakes
Compared with pressing, solvent extraction has higher oil yeild and lower labor cost with better work environment and better-quality cake.
There are 2 tupes of solvent extraction, direct solvent extraction and pre-pressing extraction. Direct solvent extraction is always used for low-oil-content oil seeds, while pre-pressing extraction is used for high-oil-content oil seeds.

Solvent extraction is a method for separating a substance from one or more others by using a solvent.The purpose of cooking oil solvent extraction machine is extract oil from the cake.This solvent extraction method is for larger capacity ,but the invest is a little big.
The solvent extraction plants are used where oil is extracted from oil seeds like soybean, sunflower, cottonseed, other oil seeds and oil cakes like mustard cake, groundnut cake and rice bran.Compared with pressing, solvent extraction has higher oil yeild and lower labor cost with better work environment and better-quality cake.
There are 2 types of solvent extraction, direct solvent extraction and pre-pressing extraction. Direct solvent extraction is always used for low-oil-content oil seeds, while pre-pressing extraction is used for high-oil-content oil seeds. - See more at: http://192.168.88.67:89/video/solvent_extraction_plant_652.html#sthash.ucLX4g9E.dpuf
Leave A Message About 40tpd solvent extraction plant for palm kernel oil/solvent extraction process
Leave a message

Tel/Whatsapp:008613526627860