Processing steps of produce palm oil
Palm oil is obtained by different traditional and mechanized methods ranging from processing uncooked or cooked fruits to centrifugation of mashed boiled or de-pericarped palm fruits. Palm oil and palm kernel oil can be extracted form oil palm fruits mesocarp and palm kernel respectively, using very simple equipments and techniques. However, specialized palm oil processing equipment and considerable still and knowledge are required to obtain a high yield of oils of good quality. Hence, the technology of palm oil production has advanced in recent years and new technological innovations are being introduced yearly to minimize losses, achieve optimum process efficiency and quality.

Henan Doing Mechanical Equipment Co.,Ltd is a professional manufactuer of palm oil processing plant, we can supply :
Palm fruit /palm kernel pressing line:
1-2-3-5TPH small palm oil processing machine
15-30-45-60-80-120TPH palm oil processing machine;
5-600TPD palm kernel oil processing machine;

Palm oil refining:
1-2-3-5-10TPD batch palm oil refinery machine;
10-15-20-25-30-50TPD semi continuous palm oil refinery machine;
50-80-100-150-300-600TPD full continuous palm oil refinery machine;

Processing steps of produce palm oil is a complex process. The complete set palm oil extraction machine includes a series of palm oil extraction process, which includes palm fruit sterilizing machine, palm fruit threshing machine , palm fruit digesting & pressing machine , crude palm oil clarification machine ,palm kernel oil recovery machine and so on.

Palm oil mill plant
Process flow diagram of produce palm oil :
Processing steps of produce palm oil :
Palm fruit reception - harvest the palm fruit from the oil palm plantation and remove the fruitlets
Palm oil sterilization - use water or steam t for palm fruit sterilization
Palm oil threshing - separate the palm fruits from the bunches by rotation or vibration
Palm oil digestion - crush the palm fruit to maximize the oil rate
Palm pulp pressing - utilize palm oil expeller machine to extract palm oil
Palm oil clarification - remove foreign impurities from the final palm oil to get the crude palm oil
Palm oil storage - the final crude palm oil will be stored in specialized tank for further selling or transportation.

Palm oil extraction machine photos: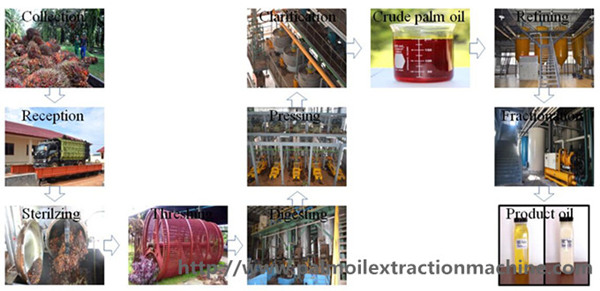 Palm oil extraction machine photos
This is a brief introduction of processing steps of produce palm oil, if you want to know more information about palm oil equipment, please Visit http://www.palmoilextractionmachine.com or contact us by phone 0086-37-56771823 or whatsapp 0086-13526627860 or email to palmoil@doingmachinery.com for further information!!!
Leave A Message About Processing steps of produce palm oil
Leave a message

Tel/Whatsapp:008613526627860